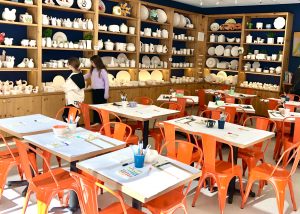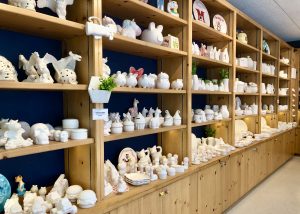 OPEN DAILY!
Mon-Sat: 10:00am-8:00pm / Sun: 10:00am-7:00pm
For groups of more than six, please call us to inquire about a reservation.

714-241-8072

We are located at 949 South Coast Drive, Costa Mesa, CA 92626 right opposite the Edwards Theatre & next to DSW (same plaza where Nordstrom Rack is located &  further down just past DSW)
Never Been to our Studio ? No Worries. It's Fun, Easy and We are Here to Assist You!
How it works:
You pick it! Browse our shelves and find the piece that speaks to you.
You paint it! We provide you with all the glaze (paint), brushes, and materials to create your personal masterpiece. We have several designs to inspire you, choose from one of ours or create your your own!
You leave it! We then glaze and fire, and fine finish your piece, transforming it into its final product. All items are also food, dishwasher and microwave safe!
You return to pick it up! Five to seven days after you have completed your piece, we will text you when  your piece is ready for pick up .
There is no limit to your creativity. Enjoy, relax, be in your "zen" and find that inspiration within you!
Having a "creativity block"?  Check out our projects and technique pages to get jump started on some ideas. 
COSTS/FEES:
Studio time is $12  per painter plus the price of the piece you choose to paint/glaze.
Ceramic pieces vary in price, starting from $20 and up.
Check our calendar for discount days on studio fees Mondays through Fridays.
WHAT IS A STUDIO FEE AND WHAT DOES IT INCLUDE?
The Studio Fee is the cost that covers :
Paint and materials
Studio Time in our studio
Final glazing by our Team
Firing of  your pieces
Final fine finishing (drimmeling and refiring if specific techniques are used) by our Team
Need more info? Check out our FAQ page or
Have questions? We are here to be of assistance!
Please call us at 714.241.8072